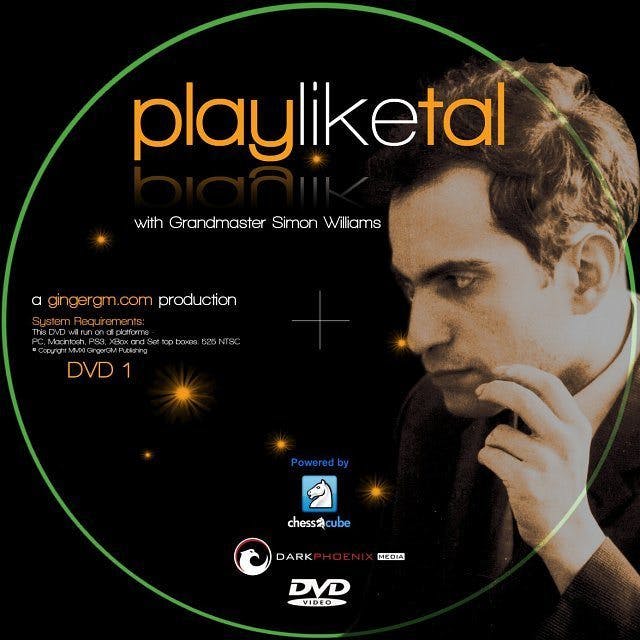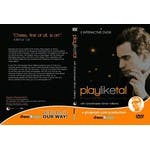 Play Like Tal
with GM Simon Williams
Quick info
---
Format: DVD.
Running Time: 7 hours.
System Requirements: This DVD will run on all platforms - PC, MAC, games consoles and set top boxes.
Arguably one of the world's most exciting chess players of all time, Grandmaster Mikhail Tal will always be remembered as an attacking genius. The former World Champion, who was nicknamed The Magician from Riga for his tactical prowess, has inspired many a chess player with his daring and electrifying style of play.
With this in mind, Ginger GM in association with Dark Phoenix Media Ltd. has created its first interactive DVD based on this chess legend. In this DVD, Grandmaster Simon Williams presents some of Tal's most notorious games whereby the viewer will be prompted during critical moments of the game to work out Tal's next move – a first for any chess DVD!
Packed full with key facts and historic photographs, the DVD is a must for any chess fan wishing to learn about one of the most inspired chess players of all time. Improve your play by following Simon's advice as he systematically explains the ideas behind Tal's choice of moves and who knows, perhaps in the future, you too could Play Like Tal?
DVD 1
Introductory Game
Tal - Hecht
Spassky - Tal
Tal - Johannessen
Tal - Uhlmann
DVD 2
Tukmakov - Tal
Tal - Martner
Tal - Ghitescu
Puzzle 1: Tal - Hjartarson, 1987
Puzzle 2: Tal - Gringov, 1964
Puzzle 3: Tal - Gringov, 1974
Puzzle 4: Tal - Smyslov, 1959
Puzzle 5: Tal - Fischer, 1962
Author
---
GM Simon Williams
Review this course
---
You must log in to leave a review
Help us improve our website by telling us what you think.
Made by chess players, used by chess players.